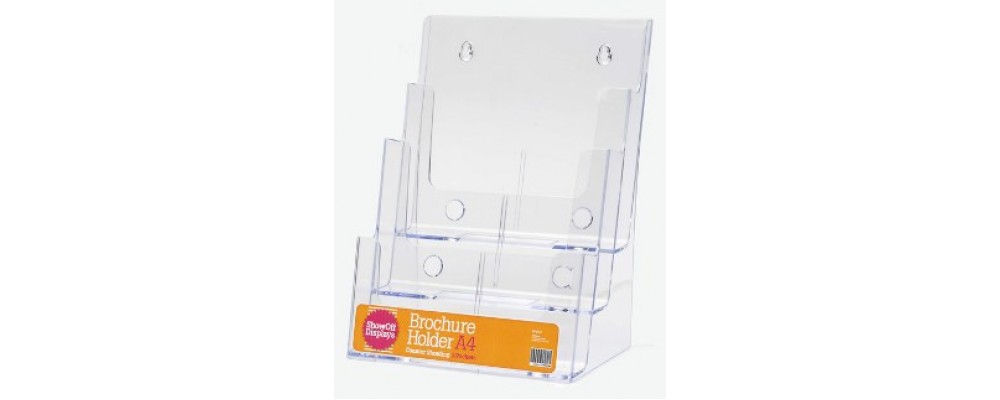 Brochure holders - Convey the Information to Customers
A critical element for any business is to convey the maximum product (or service) information to customers. Customers are increasingly information driven. Competitors are often providing large amounts of information either online of offline – and it is essential to compete. It doesn't matter if this is in a shop, office, hotel, school, warehouse or wherever. Brochure holders are an excellent way to provide a message to existing or potential customers and clients. They are available in a large variety of shapes and sizes. Essentially brochure holders are made of clear, scratch-resistant plastic or acrylic sheet so that the brochure is clearly visible through the holder. They may be attached to walls or placed on the counter or shelf. Sizes vary from the compact DL size to large A4 (regular paper size).
Counter display holders may just have a single pocket – and they may have up to 12 pockets to display brochures or pamphlets. Hence there should be a product available to suit your needs. Most brochure holders are in the portrait style format (as most brochures are developed in portrait format) – but we also have a small range of landscape brochure holders if that is your requirement.
Most of these units are made from a single piece of molded clear polystyrene. Units made from a single piece are generally stronger, don't have sharp edges and are more contemporary looking.

Show Off Displays is a leader in supplying brochure holder online with bulk discounts. We have been operating since 2009 and our low cost online model has attracted big corporates, government departments, schools, universities, hospitals banks – as well as thousands of small businesses around Australia. Contact us today at www.showoffdisplays.com.au or on (03) 9758 7844