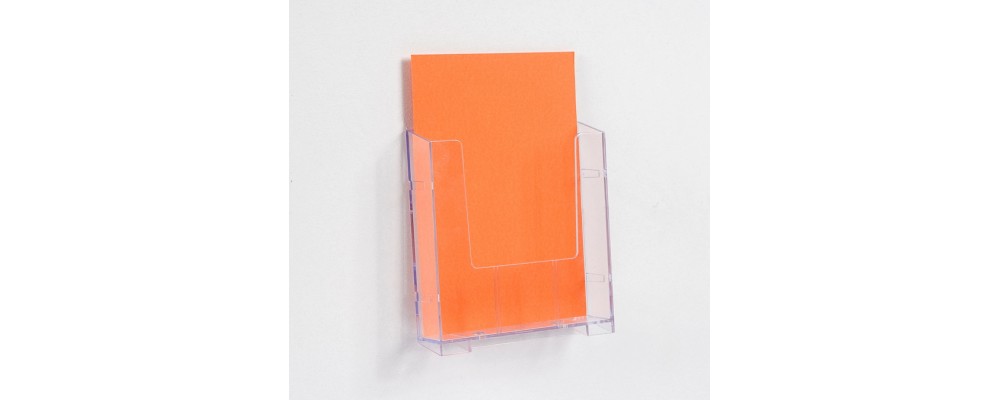 Sign and Brochure Holders in the Digital Age
In store signage, brochures and catalogues are widely considered to be old-school advertising methods. So much focus and investment from marketers and advertisers today is on digital advertising and marketing techniques. Whilst these are indeed often effective, we don't recommend that they should be done to the exclusion of the traditional methods.
The improvement of digital technology is a very good reason to refocus on printed materials for your business premises. Businesses simply don't have to print thousands of pieces at a time with offset printing.
Keeping instore campaigns fresh and new has never been easier – or cheaper. Digital printing and indeed high quality cheap colour laser printers allows businesses to keep messaging relevant and current – at very low prices with very low (and even personalised) quantities.
Whilst customers are using online advertising more and more, there is often nothing easier than having a brochure holder for customers to pick up a brochure on the product or service that interests them. Many customers still prefer a brochure. It is often still easier to compare products and to share information with other people about an intended purchase.
Many of our customers use our sign holders for pricing for products and ranges. Simply update an A4, A5 or A6 sheet with new or revised information on your PC, print it out and place it in a clear plastic sign holder. We carry a range of single and double sided sign holders in A4 as well as the smaller A5 and A6 sizes. They can be in either portrait or landscape format. This can be done without external assistance – and can look very professional behind a clear acrylic sheet.
Brochures can easily be updated with new information, products, services and tailored to customer needs and queries. Whether printed internally or externally by a digital printer, these can be printed cheaply and in small quantities and added to a low cost clear plastic brochure holder display – either wall mounted or counter standing. Show Off Displays carries a large range of brochure holders in A4, A5 an A6 sizes. They come with between one and twelve pockets. Most brochure holders are in portrait format – but we also carry a range of landscape format brochure holders.
Even business card holders can be printed in smaller quantities and updated regularly. We carry a range of one picket, two pocket, three pocket and larger 6 pocket brochure holders. You can also get new clip-on business card holders that attach to the front of a brochure holder.
Show Off Displays carries a large number of brochure holders, sign holders and business card holders in stock. You can buy online and we have bulk discounts and an express delivery service so that you can enjoy the benefits within days. Don't forget that traditional advertising can work better than ever in this digital age. Good luck and happy marketing!